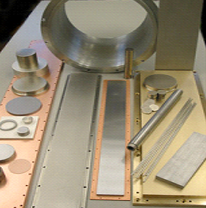 RAM ENTERPRISES is leading Supplier of Coating consumables. Our products are applied widely in optics, electronics, solar cell, semiconductor, metallurgy, lighting etc. Our business expands rapidly throughout India. Sustainable rapid progress has made Ram Enterprises much more influential role player in South and North India.
Ram Enterprises was formed in the year 2009. We are an experienced team of Executives who posses domain expertise in the related fields of specialization. As individuals, every one of us has worked in the field of Scientific and Engineering Equipments and has worked with various Education & Research Institutes apart from Industries. Our Executives have a strong experience in Vacuum field last 15 years.
We have a strong team for Installation. Our Engineers are trained by our Principals who are capable of handling their range of products and services with easy. Our team of engineers has installed and commissioned some of the multifaceted & intricate systems successfully. Our Delivery Team is mentored and guided by a senior person who posses hands on experience of more than 25 years in the industry.
Excellent Service 
Our service is available throughout the whole transaction process. Since your first inquiring call or email, you have got the privilege to enjoy our service as our client. We promise you that we will give you an in-time respondence in 24 hours. We assure you that you'll get an in-time delivery upon your request if you are going to place an order. 
We also have our own Crisis Management Division that will give you an instant respondence in case you have any dissatisfaction with any respects of us. Your full satisfaction is the only criteria to prove the success of our work.